Sep 23, 2022 at 01:15 AM
President William Ruto met his US counterpart Joe Biden at a reception hosted by the latter during the 77th Session of the United Nations General Assembly (UNGA), New YorK....
Sep 21, 2022 at 10:30 PM
"Building back better from the bottom upwards is, essentially, about including the marginalised working majority in the economic mainstream," President Ruto....
Sep 21, 2022 at 11:17 AM
The visit to the US saw a number of close ally accompany him to the trip....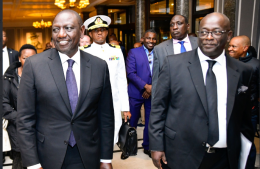 Sep 20, 2022 at 09:35 AM
"He should have sent Gachagua. Then dispatch him to New York for the General Assembly."...
Sep 16, 2022 at 11:57 AM
He is expected to use the visit to familiarize himself with world leaders....