Topic: KCB CEO Paul Russo
Nov 21, 2022 at 04:09 PM
The Head of State has appointed the Safaricom CEO to a new role....
Nov 16, 2022 at 05:58 AM
Customer deposits increased by 7.4% to KShs.922.3 billion on higher deposits from the growth of current and savings accounts....
Oct 28, 2022 at 09:29 AM
KCB Bank Kenya has set aside KShs. 250 billion to fund women entrepreneurs in the next five years....
Sep 23, 2022 at 09:37 AM
KCB has been named the Best Bank in Sustainable Finance by the Kenya Bankers Association (KBA)....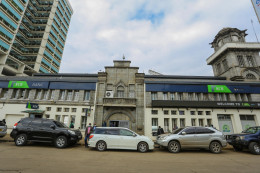 Sep 19, 2022 at 10:12 AM
KCB Bank Kenya has injected over KShs. 120 billion to support Oil Marketing Companies (OMCs)....
May 24, 2022 at 04:54 PM
Mr. Russo replaces Mr. Joshua Oigara who has been the GCEO for the last nine and a half years. ...