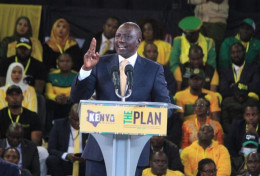 Aug 04, 2022 at 12:08 PM
"I want to ask the CEO of Kenya Power, Mr. Muli, to exercise the responsibilities of his office in accordance with the law," DP Ruto....
Jul 24, 2022 at 02:07 PM
The government has cleared 11 betting firms to get licenses....
Jun 24, 2022 at 02:06 PM
The Communications Authority has deactivated over 124,000 SIM cards....
Apr 15, 2022 at 01:04 PM
The Communications Authority of Kenya has extended the SIM card registration deadline....
Apr 10, 2022 at 10:04 AM
Aden Duale claimed that ongoing sim card registration exercises across the country are a hidden plot by the Communications Authority to interfere with internet connection in the co...
Apr 10, 2022 at 01:04 AM
The Kenya Kwanza Alliance will take action over the ongoing SIM card registration....
Apr 09, 2022 at 09:04 AM
The former IEBC CEO noted that users of various service providers can know if they're duly registered by dialling *106#. ...
Apr 08, 2022 at 05:04 PM
Communication Authority of Kenya CEO Ezra Chiloba has clarified SIM card registration after an uproar by a section of Kenyans....
Dec 23, 2021 at 06:12 AM
Chiloba stated that the review was prompted by the desire to make call rates affordable to Kenyans....
Dec 08, 2021 at 10:12 AM
CAK Director-General Ezra Chiloba said the Nairobi radio station was discovered operating without a licence during a raid by CAK officers....
Dec 05, 2021 at 09:12 AM
CA stated that the staff must undergo mandatory training in the management of live broadcasts. ...
Sep 30, 2021 at 09:09 AM
Chiloba: I had a great time to reflect, learn and prepare for the next challenge. I can now state that my sword is sharp; my heart satisfied; and my faith sure about the challenge ...
Sep 29, 2021 at 02:09 PM
Miguna Miguna has urged Kenyans to Mobilize! Organize! and protest the appointment....
Sep 28, 2021 at 07:09 PM
Former IEBC CEO Ezra Chiloba has been appointed the Director-General of Communications Authority of Kenya for a 4-year term. ...
Dec 31, 2020 at 01:12 PM
Since then, Chiloba has been living away from the public. In a recent interview, Chiloba revealed that he had gone back to his farming passion in Trans Nzoia County. ...