Aug 02, 2022 at 03:30 PM
The IPSOS poll has revealed 12 battleground counties that will determine the country's next president....
Jul 23, 2022 at 08:47 AM
Raila wondered why the opinion polls had placed Ruto at 60% and him at 40% in the county. ...
Jul 21, 2022 at 05:10 PM
An opinion poll result by Infotrak has revealed the leading gubernatorial and senatorial candidates in Mombasa County....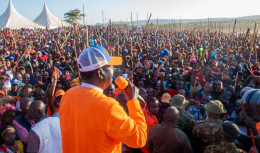 Jul 13, 2022 at 01:20 PM
The Azimio presidential candidate has extended the lead on his Kenya Kwanza counterpart....
Jul 12, 2022 at 11:24 AM
"I have the right to answer your question the way I want to. So you cannot force me," Mwaura said....