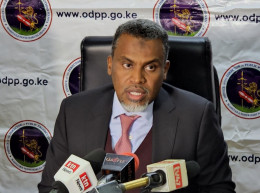 Aug 05, 2022 at 01:08 PM
The Director of Public Prosecution (DPP) Noordin Haji through his office has broken his silence following a robbery incident at his house in Riverside, Nairobi....
Aug 05, 2022 at 09:08 AM
Haji's home is guarded by two police officers. The officers are said to have been on duty but they did not hear anything....
Aug 04, 2022 at 01:08 PM
The DP in viral clips alleged that officials from the Office of the President were meeting with chiefs at night to scheme violence in the upcoming polls....
Jun 08, 2022 at 11:06 AM
Gachoki was days ago marked as a dangerous and most wanted person....
May 31, 2022 at 11:05 AM
The DCI argues that two detectives who did not attend the meetings on diverse dates of 21st February and March 2022 were included....
Jan 12, 2022 at 09:01 AM
Kuria said the arrest and charging of the politicians would not yield the desired fruit considering the legal obstacles....
Jan 11, 2022 at 10:01 AM
The MP is set to be grilled for his alleged hate speech utterances....
Jan 10, 2022 at 05:01 PM
The DPP has directed the Inspector General of Police Hillary Mutyambai to probe the remarks....
May 17, 2021 at 03:05 PM
Detectives said Jennifer Wambua had gone for prayers when she met Mwangi. He offered to get her drinking water before sexually assaulting her then strangled her to death....
Dec 09, 2020 at 11:12 AM
DPP has withdrawn treachery charges against blogger Robert Alai. Alai will also have his Ksh300,000 cash bail refunded. He was charged for posting gory pictures of police officer...
Oct 16, 2020 at 05:10 PM
DJ Evolve now wants the case against Babu Owino withdrawn...