A woman who showed interest in becoming Mumias East MP Peter Salasya's wife has finally met with the lawmaker.
In a video shared by the MP on Tuesday, October 18, Salaysa said that the young woman, Lydia Erad, showed up for his lunch offer at Parliament Buildings.
The first-time MP congratulated the woman for her courage, maintaining that he will support her to fulfil her dreams.
"Finally Kenyans I told you that I will invite her for lunch and we have happened to have the lunch. I just congratulated her for her courage. I will support her to fulfil her dreams in life. It could be job, business wise. I will support her," Salasya said.
The woman was pictured holding a placard that she used to request Salaysa to marry her even as she shared her contact details on it.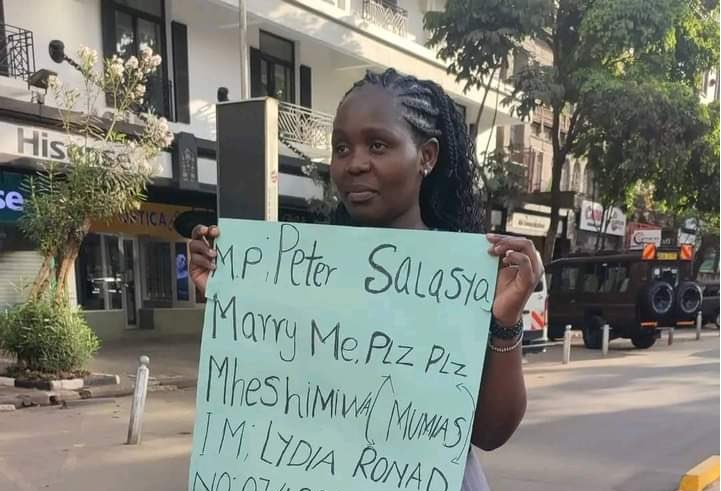 The lawmaker had previously said that he was looking for an intelligent and prayerful woman to marry.
Salasya said that he needed a supportive woman who was focused and someone who was willing to go upcountry and help him with campaigning.
"I am intelligent and strong. I was able to convince people to vote for me. I am not someone who can be swayed. I am looking for a prayerful woman. Someone who is focused and very supportive. Someone who is willing to go upcountry and campaign," Salasya said.
He, however, did not disclose if he will marry Lydia after their lunch date at the Parliament Buildings on Tuesday.
Salaysa is one of the youthful MPs elected to the 13th parliament. He is yet to marry.
vaida finally came for a lunch in the parliament buildings as i had promised kenyans 😂😂😂😂.Lydia Erad will be the next woman rep of kisii county or the replacement of my friend #silvanasosoro south migirango MP. Her courage and charisma will take her places . pic.twitter.com/5APULVxMq0

— Peter K. Salasya, MP (@P_Salasya) October 18, 2022