Topic: Safaricom CEO Peter Ndegwa
Sep 28, 2022 at 12:25 PM
The Fuliza discount will take effect on Saturday, October 1st....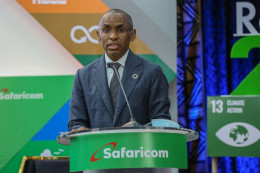 Aug 23, 2022 at 02:53 PM
Safaricom has announced the closure of its retail centre at Two Rivers Mall effective August 31....
Aug 03, 2022 at 11:13 AM
Safaricom has been tasked with providing a 4G internet connectivity that will enable the transmission of election results....
Jul 29, 2022 at 06:19 PM
Safaricom on Friday announced the appointment of John Ngumi as the director and also chairman of the firm's board replacing Michael Joseph....
Jul 29, 2022 at 10:31 AM
Safaricom has replaced Michael Joseph as the firm's chairman. ...
Jun 30, 2022 at 07:19 PM
Safaricom Chief Consumer Business Officer Sylvia Mulinge has parted ways with the company....
Jun 09, 2022 at 07:25 AM
Safaricom CEO Peter Ndegwa has broken his silence after reports emerged that the telco was planning to 'kill' the reverse call service. ...
May 12, 2022 at 09:54 AM
This is the first time the M-Pesa revenues are crossing the Sh100 billion mark....
Apr 15, 2022 at 10:49 AM
Safaricom has provided a link where you can confirm your sim details and registration. ...
Mar 07, 2022 at 12:11 PM
The winners will be randomly selected and will get back 15% of the transaction value up to a maximum of KSh. 1,000....