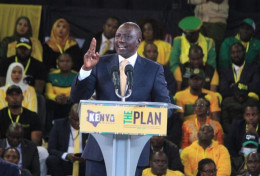 Aug 04, 2022 at 12:08 PM
"I want to ask the CEO of Kenya Power, Mr. Muli, to exercise the responsibilities of his office in accordance with the law," DP Ruto....
Feb 15, 2022 at 08:02 AM
Some of the areas that will be affected by the power outage include Nairobi, Nyeri, SIaya and Kwale counties....
Jan 18, 2022 at 08:01 AM
The blackout will affect Nairobi, Nandi, Homa Bay, Migori and Mombasa counties....
Jan 13, 2022 at 03:01 PM
DCI boss George Kinoti said his officers have taken interest in the Tuesday's collapse of four steel pylons in Imara Daima area in Nairobi County. ...
Jan 12, 2022 at 09:01 AM
The gain coincided with the power blackout as Kenya Power is also known as Kenya Power and Lighting Company or simply KPLC. ...
Jan 11, 2022 at 07:01 PM
KPLC said a power transmission line sustained a fault on Tuesday evening leading to the blackout....
Jan 11, 2022 at 05:01 PM
Three areas still facing outages but the company has promised to restore electricity in due course. ...
Jan 11, 2022 at 01:01 PM
In a statement on Tuesday, January 11, the power supplier revealed that the outage was due to a collapsed tower along the Kiambere-Embakasi high voltage transmission line....
Nov 19, 2021 at 02:11 PM
Tension has gripped Kenya Power employees after they were ordered to present their financial and assets records....
Nov 10, 2021 at 10:11 AM
According to Kenya Power, those interested should send their applications by latest 24th November 2021....
Aug 30, 2021 at 03:08 PM
According to Kenya power, the shutdown will last for about five hours....
Apr 17, 2021 at 01:04 PM
5 Counties are experiencing a blackout after a fire broke out at the Sub-Station....
Nov 23, 2020 at 10:11 AM
High electrical bills force Kenyans to seek cheaper alternatives This move leaves Kenya Power dealing wth huge loses...